Experience & Qualifications
1970s-1980s
I am Paula Logan, my history is in nursing, specialising in Orthopaedics and general nursing, my last post in the NHS was A & E sister in the London district.
1990s
While living in Germany I took up the opportunity to work in home nursing for a short time while using spoken German.
2000
On returning to UK – Scotland, I studied and completed a course in Clinical Reflexology with the Scottish School of Reflexologists.
2006
My personal ambition was realised in completing the training to be a Foot Health Professional and opening my own clinic – Step In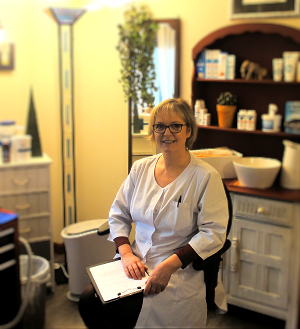 2010-12
With reference to good health and benefits of Nutrition, I completed a two year course in Natural Nutrition. (how to heal with food!)
With all of the above experience, my aim is to improve the condition of all my patients feet, personal health & happiness.
To educate my patients in caring for their own feet between treatments where possible and pointing out any pitfalls with reference to general health, disease & medication. How to move forward in maintaining good Foot Health Care.